Information will be continuously updated
Lilla Edet – Ship locks in Trollhättan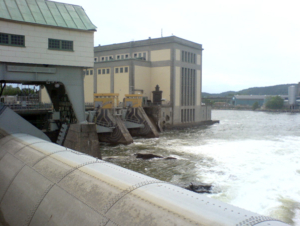 This technical excursion will be visiting the hydropower plant Lilla Edet. This is one out of four hydropower plants in the river Göta Älv, draining the largest lake in Sweden, Vänern, flowing out in Kattegatt on the west coast of Sweden. The hydropower plants in Göta Älv are of great importance since they regulate the water levels in Vänern. Lilla Edet is under re-construction where the old spillways are being replaced. The new construction must be able to withstand higher expected waterflows then before. During our visit we will learn more about the re-construction which is planned to be completed by 2024.
After our visit at Lilla Edet, we will go to the city of Trollhättan, located by Göta Älv, where we will see the historical ship locks. The first ship lock in Trollhättan opened in 1800. The one being used today opened in 1916. The ship locks gives cargo ships the possibility to travel along Göta Älv and reach many cities located by Vänern.
Viskan – A historical tour of the importance of hydropower plants for the textile industry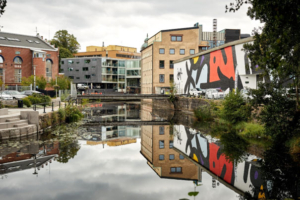 On this technical excursion we will learn the importance of the hydropower plants for the textile industry in the nearby area. The city of Borås and the nearby area, one hour outside of Gothenburg, is famous for its textile industry. Most companies have long since moved their production to other countries, but the city still have a popular textile university.
We will travel a bit south of Borås to the river Viskan and visit two hydropower stations. One of these are Rydal hydropower station, owned by Vattenfall, which was put into operation in 1916. The power station was built to provide the nearby cotton spinning factory with electricity. We will also visit the old factory which today is a museum.
Photo cred: Jonas Ingman/Westsweden.com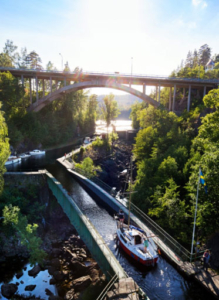 On this technical-historical excursion we will travel up north to the Dalsland Canal. Dalsland Canal enables ships to sail between Vänern and central parts of Dalsland. We will travel on the canal by boat and pass both ship locks and the aqueduct in Håverud. The aqueduct was an important part of finishing the canal, which was inaugurated by the king in 1868.
We will also be visiting a couple of mini hydro projects on the way.
Photo cred: Roger Borgelid/Westsweden.com